IKEA Stay
Stay at IKEA-furnished homes.
Type Case Study - UX Design
Time 2015 - 4 weeks
Roles UX designer, UI designer, front-end web developer
Tools Illustrator, HTML, CSS, JavaScript
Team Edward Chen, Tiffany Cheng, Haley Clarke, Robbie Sebullen, Maurice Yu
Recognition Vancouver UX Awards 2016 ("UX by Students" and "People's Choice")
View slide deck View process book View web demo
Introduction
IKEA Stay is a result of an intense 4-week project from identifying a business problem and designing a fluid and rich experience, to developing a prototype and showcasing it for one of our program's destination course.
In brief, IKEA Stay is an experience where visitors can stay at short-term Airbnb rentals, furnished with IKEA products to try. They will be able to learn how to style their homes, and purchase products confidently. A tablet at the home features the furnished products which can be saved for later. A post-stay website allows customers to review or purchase products they liked and view other product contexts.
My Role
I was involved in researching potential problems or opportunities that IKEA might be facing, as well as providing insights about people who might use this product, and developing the business logic behind our idea. I designed most of the web experience and completed the entire web prototype in a few days.
Business Problem
Compared to other retailers, IKEA is the biggest player in terms of traditional furniture stores. The renowned physical showroom experience overshadows their weakness in online shopping. However ecommerce is continually growing as more and more customers find products online. Having fallen behind on the growth of popularity of online shopping, can we bring IKEA's showroom expertise into the online world?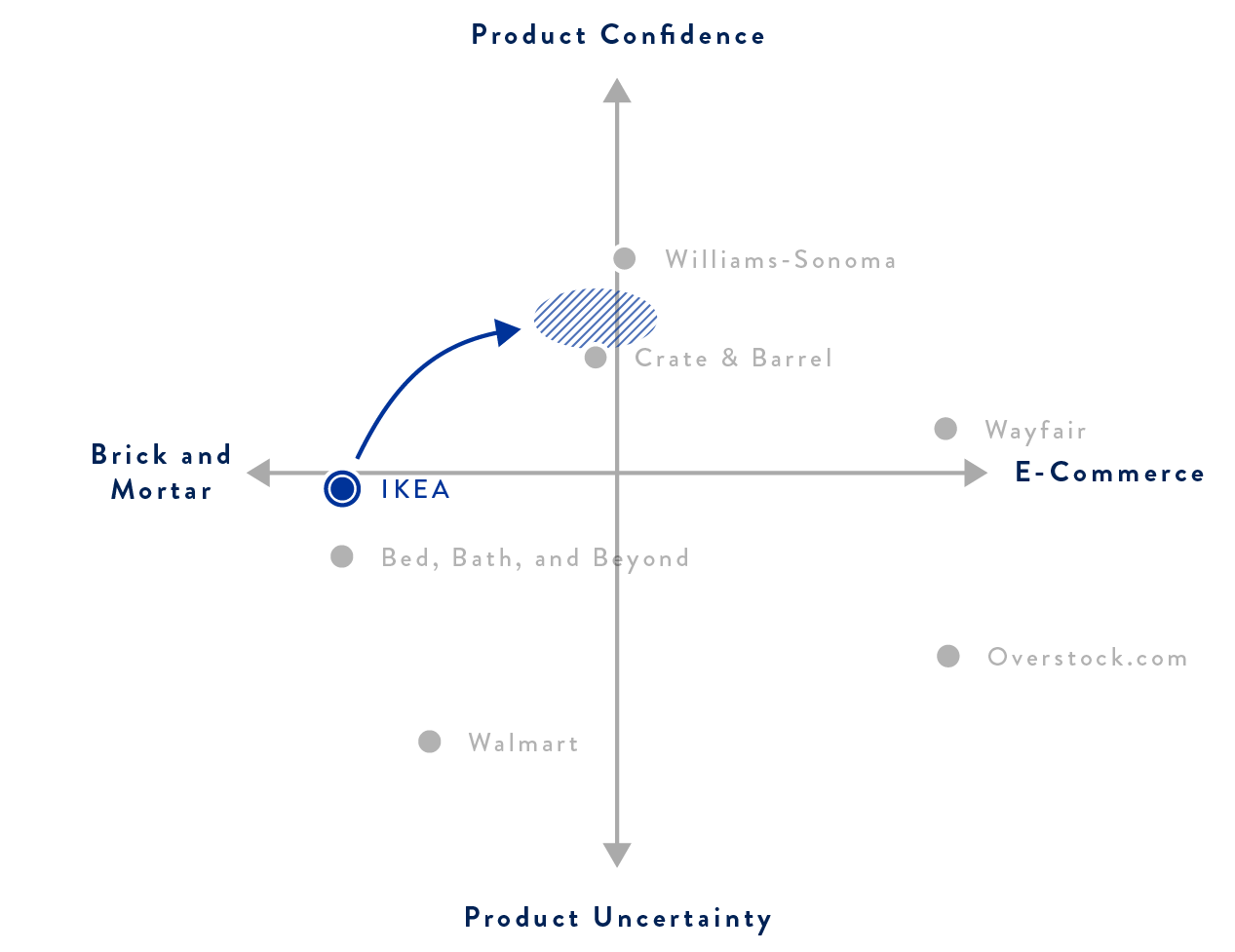 "IKEA [...] now finds itself playing catch-up to more web-savvy rivals, racing to put more of its Lack coffee tables and Billy shelving online."
Hiroko Tabuchi, New York Times
Insight
In order to ground our beliefs, we needed evidence. Taking in what I learned from entrepreneurship courses, I found industry reports for both online and traditional furniture stores in North America. Take a look at this diagram which shows market domination as well as growth. You can tell that online shopping can be a lucrative place for IKEA.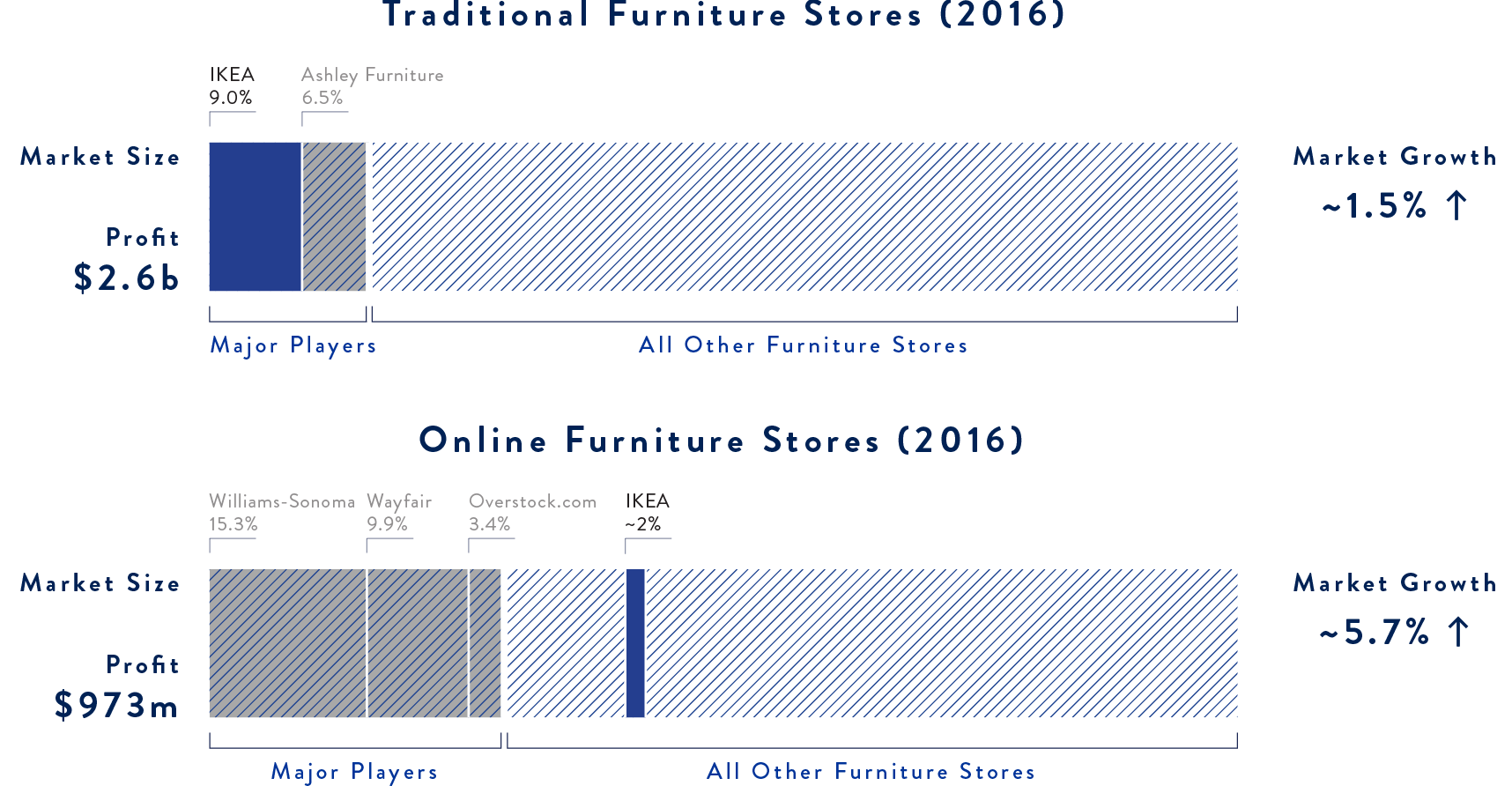 Human Insights
In our visits to IKEA, we discovered several weaknesses we could quash, and strengths that we could elevate in our quest to grow IKEA's online presence.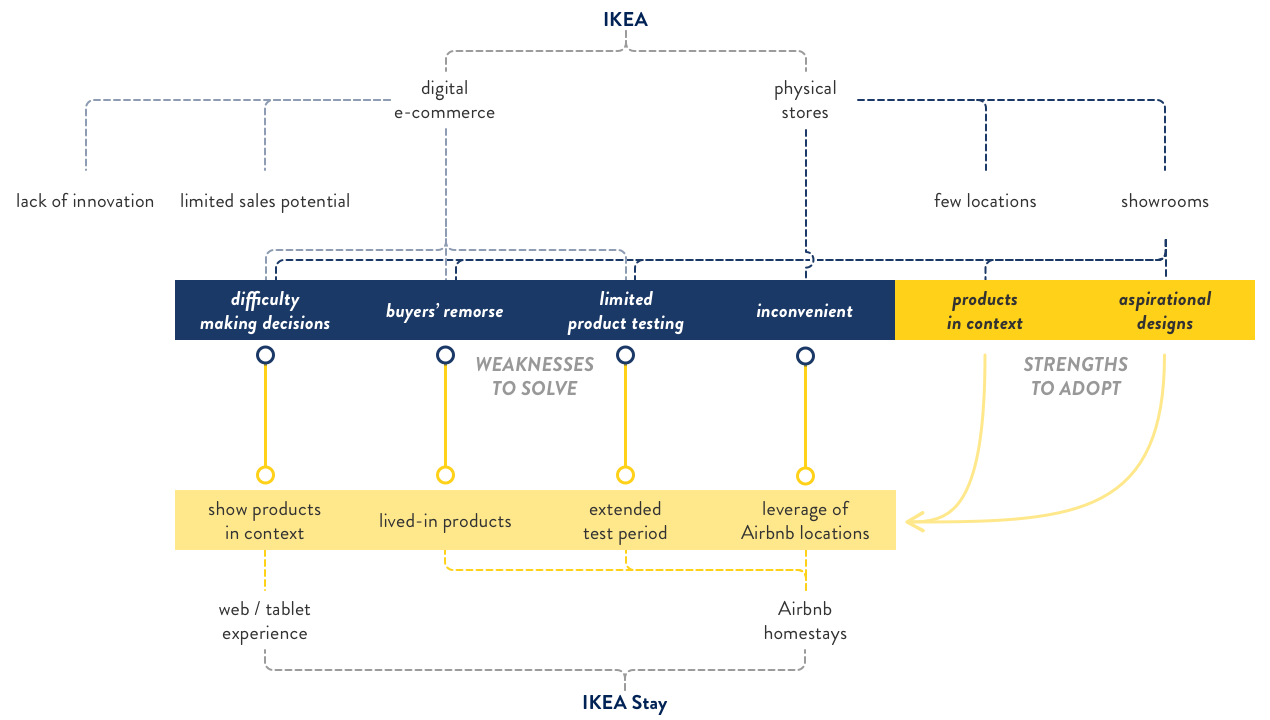 By widening our problem scope, I identified a common trend occuring in urban centres, where young professionals are moving to new cities for work, whilst using short-term rentals as they search for a more permanent home. Coupled with actual experiences from friends, we thought this would be a perfect fit for IKEA to intervene.
"IKEA is permeating Airbnb's 1.5 million listings. Show me a one-bedroom riverfront apartment for rent in Klaipeda, Lithuania, and I'll show you a Poang chair."
Julie Laksy, design journalist, former deputy editor New York Times
Insight
The initial problem we identified was the disconnect between the idyllic showrooms and the real home experience with IKEA's products. But whose problem would we be solving? We needed a target group in order for this design to be viable as a business product. I discovered this important insight during a dull moment in a brainstorming session.
IKEA's low costs for appeal and comfort matched the resource-limited professionals. But wait, more was brewing in my mind. IKEAs are far away from these urban centres. Take Seattle: the closest IKEA is in Renton, a 30min drive or 1hr via transit. This meant that our solution would be very advantageous both for customers and IKEA.
Another bonus: IKEA believes in democratic design - to create a better everyday life for the many. IKEA Stay would make IKEA's products even more accessible in places like downtown Seattle.
Customer Journey and Experience Tour
This multi-modal experience goes through several phases, from booking, staying, to what happens after their stay.

---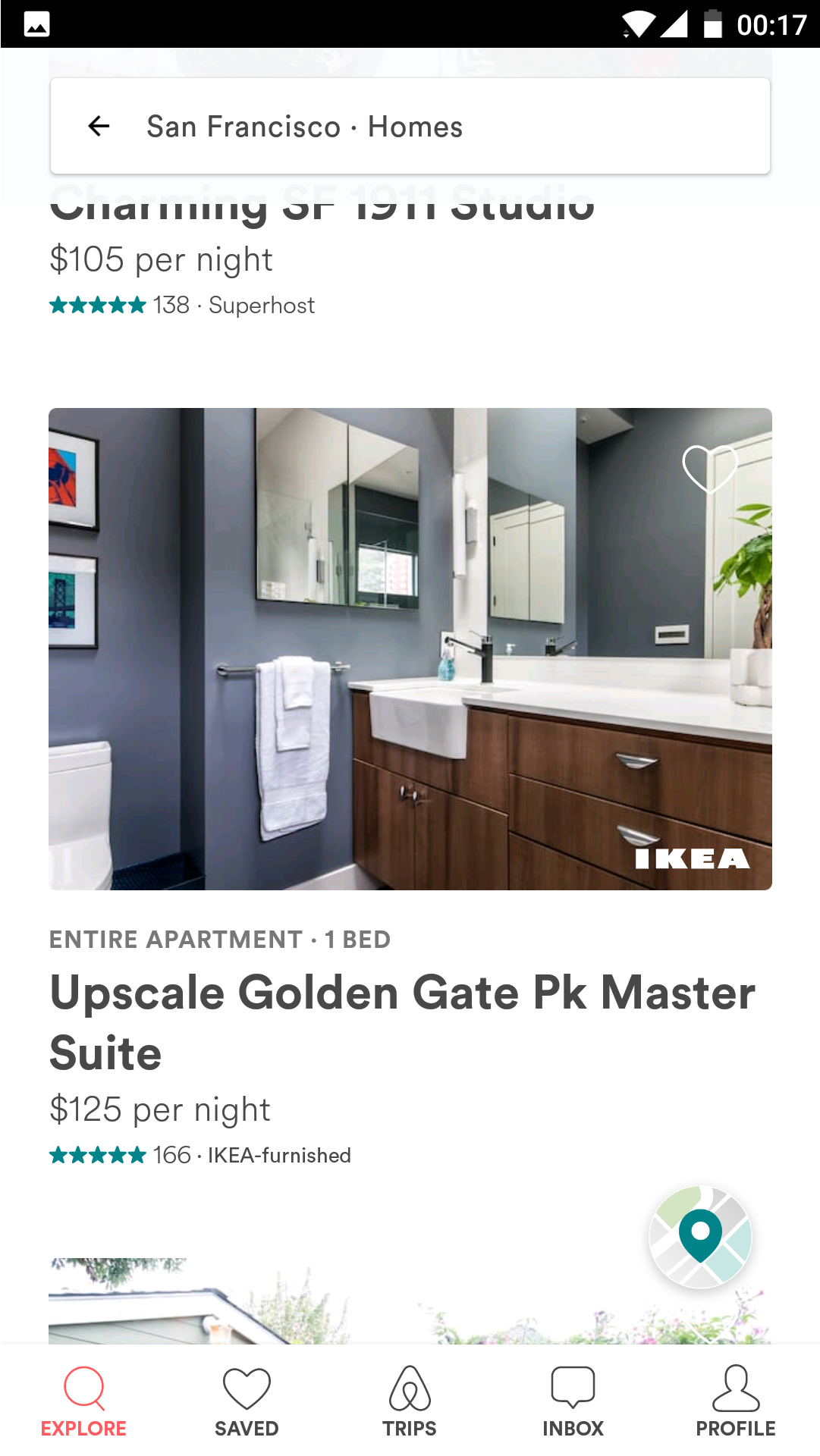 ---
---
Outcome
Outside of this IKEA Stay design, there is potential for sector-wide impacts for furniture stores and short-term rental businesses. This live-in showroom experience could direct IKEA into creating their own rental system, or it could be expanded to other furniture stores in this industry as well.
As far as legal issues we were concerned with, IKEA Stay would operate with respect to the local laws, akin to hotels and short-term rentals, like how Airbnb is currently managing. We would find hosts that honour these regulations.
We submitted our design to the Vancouver UX Awards 2016, and won two awards, "UX by Students," and "People's Choice," for showing the local community our ambitions and our potential to impact our industry.